Pauline Hall
Pauline Hall was born in Dublin, Ireland. She spent periods of time in France, Italy, Spain and the United States before returning home to live in Ireland permanently. Having originally worked in the Irish public service, she now writes full-time, both fiction and poetry.
Her stay in a manor house deep in Picardy, France in the late 1950s, followed by a period at an Ivy League college in the USA in the 1960s, was the spur to the writing of her first novel, a Bildungsroman, 'Grounds', published by Brandon Books in 1983. Her poems have been published in Cyphers, Stony Thursday, The Mews and Encounters.
She was shortlisted for the Rattlebag Poetry Slam on RTÉ Radio One in 2004 and for the Poetry Ireland Introduction series in 2009. In 2012 and 2014, she was one of the twelve Irish fiction writers selected to participate in the Arts Council of Ireland's Writers' Workshops programme. She is an active member of Dublin's Airfield Writers' Group and has done readings at the Irish Writers Centre, and at the Books Upstairs literary cafe in Dublin.
In 2013, she published 'The Cream of the Milk', an illustrated broadsheet of clerihews (a form of short comic verse) on famous and infamous Irish women.
In 2016, she was one of a select group of poets invited to a workshop with Paul Muldoon, Poet In Residence at the Kilkenny Arts Festival in Ireland.
Her most recent publications include the novel 'Eoin Doherty and The Fixers' (2016), the guidebook 'Rathmines and the Rising People and Places' (2016), and a series of articles on fictional treatment of the Easter Rising for the Dublin Review of Books (2015-16).
She has contributed to the Irish Times and The Dubliner and has reviewed Irish fiction for the English/Spanish online journal Estudios Irlandeses.
Prior to becoming a full-time writer, she worked as a lecturer, consultant and manager. She edited the 'Network Directory of Women in Management' (1989) and co-wrote (with Hilary Maher) 'Agents of Change, a Managers' Guide to Planning and Leading Change Projects (Oaktree Press 1991) and several distance-learning packages on managing change and projects.
Her knowledge of the change process, also on a personal and human level as part of a women's group, is reflected in her poetry and fiction.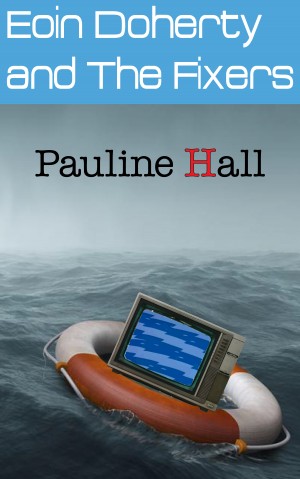 Eoin Doherty and The Fixers
by

Pauline Hall
TV producer Eoin Doherty returns to Dublin, his career in freefall. A meeting with showbiz psychologist Maggie Vernon leads him to create a reality TV show, The Fixers, where four troubled women will be coached to emerge into new independence. For Eoin, a chance to save his career. For Maggie, a chance for revenge. A story exploring the culture of instant celebrity and the limits of reinvention.