Pauline Pipa
Biography
I have been writing Fiction since I was a child. Ideas pop into my head and I am compelled to write them down and when I do, the ideas grow into characters, plots, locations, dialog, emotions, titles, etc etc etc Soon, I have a story written. I literally picture everything in my mind while writing and I go into my writing zone where nothing can distract me. For some reason I tend to lean towards writing Children's stories and short stories. I truly hope my readers escape into the fantasy I create, without even trying. And, when they are finished reading the story they feel as if they were on the adventure themselves.
Where to find Pauline Pipa online
Books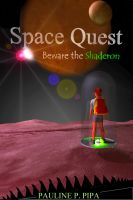 Space Quest - Beware The Shaderon
by

Pauline Pipa
While walking home from school, ten-year-old Chris stumbles across an object, hidden in the leaves, that triggers the start of an amazing and dangerous adventure. A terrible creature on a distant planet is stealing the light from the planet leaving the planet's inhabitants in cold, darkness. They are desperate for help and Chris may be the only person who can save them.
Pauline Pipa's tag cloud