Angela Emsley
Biography
I am an aspiring artist that loves to create many things using many different mediums.All my life growing up I loved to read and enjoyed anything literary. I started writing poetry from a young age and continue today with many different works. I am currently trying my hand at writing fictional novels and short stories. Not only do I enjoy writing but I also love art, I run my own website where I design jewellery using natural materials, I make clothing designs and will be showcasing some of my sketches and other creations to be completed soon. Hope you enjoy my poetry and anything that I have created. Please follow me on twitter or facebook, I am actively on there everyday.
Where to find Angela Emsley online
Books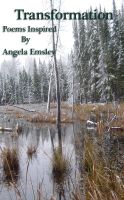 Transformation
by

Angela Emsley
A collection of poems inspired by everyday life events and emotions. I have written these poems over a period of 15 years while going through many transformations of life. Some are based upon my own life experiences & trials, others are about certain events and activities that I enjoy. They are meant to make you think, wonder and invoke the emotions that exist in us all.
Angela Emsley's tag cloud