Tag Pearson
Biography
I have no idea when my soul was conceived, how much agitation it has endured in the wash cycle of life in this soul-cleansing machine we call Earth. I can't tell you what my face looked like before my parents were born.
I do remember a few things. Fifty years ago, my mother went into labor while watching As the World Turns. Somewhere in between melodramatic plot twists that had not yet become hackneyed, my eternal soul was assigned to a body that would become the novelist who is hawking his words to you at this very moment. Along the way, my body, spirit, and mind tried its unified hand at shoveling popcorn and practicing law for a living; TransAmerican driving and following politics for living well. I have witnessed firsthand the stunning beauty of the American landscape and the cosmic evolutionary potential of American character and faith. I love history and I live by the axiom that those who cannot remember history are condemned to hear me bitch about it.
Medical issues prevented a return to the legal profession, redirected my creative spirit to Woodland, Nebraska. I used to love California, movies, and national politics, but all three have been compromised by socialist cancer, a terminal affliction whose only cure is God, guns, and guts. I spend my free time in Woodland reflecting fondly on the good old days of human moral and intellectual excellence. I continue to lobby for restoration of the freedom to pursue excellence—and thus for positive human evolution—even as I prepare to leave the washing machine behind and catch an eternal wave on the cosmos.
Books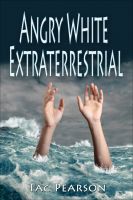 Angry White Extraterrestrial
by

Tag Pearson
When peace officer Deuce Condoor kills, he absorbs and represses the darkest truths of his victims, maintaining an empowered state of blissful ignorance. When Deuce kills a prophet who knows all of Deuce's secrets, Deuce absorbs a truth so vital yet so vile that Deuce can neither purge nor digest it. Deuce must pacify his spiritual indigestion before revelation of its cause terminates Creation.
Tag Pearson's tag cloud