Anne Steinhardt
Biography
Bio: Anne Steinhardt, author, Pele Voodoo Live!
I was born and raised in Brooklyn, New York; about my age, all I'm prepared to say is that when I was born, the Dead Sea was just not feeling well. For the past 30 years I've lived in Santa Cruz, California, close to my daughter, Alicia, and dote on her progeny, Haley, 15, and Brendan, 4, both exceptionally intelligent and beautiful children. I have a BA from Barnard, MA from Cornell University. I've taught writing at the University of California, Santa Cruz, Soledad Prison through Arts-in-Corrections, the Foothill Writers Conference, and for 20 years, basic composition at Hartnell Community College in Salinas (Code Name: The Gramminator). For ten years I was a freelance journalist and regular contributor to the San Jose Mercury Sunday magazine. My three previous novels, one published by Grove Press, two by the Viking Press, rated rave reviews in Newsweek and The New York Times Book Review (quoted on the back jacket of Pele Voodoo Live! Thunder LaBoom was a Playboy Book Club Major Selection, optioned by Hollywood, and published in French. How To Get Balled in Berkeley won the Jackson-Phelan Literary Competition) Simultaneously I was plying my second career as professional musician, all styles from bluegrass and swing fiddle to world beat on electric bass, inspiring Pele Voodoo Live!, a swirling rockumentary with a coast to coast cast of screaming, dancing thousands, about eight women musicians who take on the Good Old Boys' Club music industry, launching this band of feisty feminists on a rock 'n 'roll Mad Hatter's Tea Cup Ride: "Filled with fascinating characters doing fascinating things…original, entertaining, and incredibly detailed. I enjoyed the read, and feel enlarged by it." Judge, Writer's Digest 21st Annual Self-Published Book Awards. I am currently at work on my latest novel, Midlife Monkey Madness: A Sociobiological Romance.
Books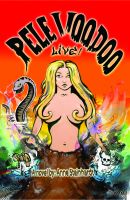 Pele Voodoo Live!
by

Anne Steinhardt
After eight years on the road, Afro pop-inspired band Pele Voodoo, aka The Wild Women of AfroBeat, eight women from Santa Cruz, California on a mission to heal the world and inspire young girls to be all they can be, were headliners at the world's most prestigious musical events and on the fast track to fame and fortune.
Anne Steinhardt's tag cloud