Penny Meakin
Biography
Penny Meakin is originally from the East End of London and now lives and works on the edge of the Peak District in Staffordshire, where she has a passion for gardening, writing, running, philately and dabbles in art; making pictures out of English postage stamps.
She is married with four children and two grandchildren and currently teaches a variety of subjects at a local University, where she has spent twenty happy years entertaining and teaching teenagers.
Books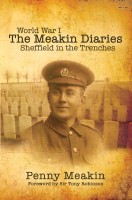 World War One - The Meakin Diaries - Sheffield in the Trenches
by

Penny Meakin
In 1915, the newlywed Frank Meakin signed up to the new Sheffield City Battalion and joined the fight for King and Country in the First World War. Although diaries were forbidden during active service, Frank rebelliously and comprehensively kept one throughout his whole service - from 1915 until he was discharged in 1918, 22 days before his Battalion disbanded.
Penny Meakin's tag cloud