Peter E Barker
Biography
Teaching English in secondary schools in New Zealand has consumed a fair slice of my life, though I did spend several years on the Talks to Schools Panel of the Commonwealth Institute in London while on my 'OE' in the 1970s. In addition I have served on employment training programmes for school leavers and also did a turn working for the Intellectually Handicapped Children.
In the latter stages of my teaching career I took to writing short stories and occasional pieces for magazines and the local papers. An interest in family history has led me into researching the history of dairy farming here in the Waikato region of New Zealand. Does one ever emerge from the labyrinth of research? Perhaps not. I have gone on to research the pre-European and frontier periods of our local history, and have been recently engaged in assisting a local iwi (tribe) prepare its 'sites of significance' narratives in a project overseen by the Crown Forest Rental Trust.
From my wanderings down these interminable corridors of the past there may emerge more stories for me to set out. At least, I hope so.
Books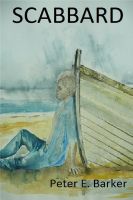 Scabbard
by

Peter E Barker
An old sword shows up at an antique fair in provincial New Zealand. What tragedy does it conceal and how does this mysterious object connect with Christian Larson, a Scandinavian boy shipwrecked in the year of the Titanic? a Viking past forms part of a quest for identity, set in a small New Zealand town in the early years of the twentieth century.
Peter E Barker's tag cloud