Peter Garikayi
Publisher info
Peter Garikayi is passionate about raising children with a long term view; ultimately children should be well-rounded, socially, academically, Spiritually and otherwise.

Having enjoyed and still enjoying his parenting experience, he now seeks to contribute positively to parenting in general. Together with his wife Yandiswa they have four lovely daughters.

Peter is your brother in Christ, a passionate Preacher, Author, Entrepreneur and a Law Graduate.
Books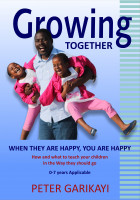 Growing Together - When They Are Happy, You Are Happy: How And What To Teach Your Children In The Way They Should Go
by

Peter Garikayi
This book is for prospective and or young parents as well as fathers raising girls. While the principles in the book are ageless, the book is specific to the 0 – 7 years age group.
Peter Garikayi's tag cloud