Peter Senior
Biography
Peter has a very diverse background suited to investigation and assessment of a wide range of projects and organisations. His qualifications and experience include an engineering degree with honours from London University, advanced management at Cambridge University and Past President, Institute of Management Consultants NZ. Peter's background includes: Water treatment development engineer; Systems Engineer, IBM; General Manager, New Zealand Newspapers; Management Consultant, Deloitte Consulting; then his own consulting practice, Senior Consulting. Typical assignments were Project Director reviewing and restructuring Port of Tauranga, NZ Electricity Corporation and NZ Telecom. For the last ten years, Peter has applied his wide knowledge and research capabilities to understand better how the world works, in all respects, resulting in his latest book 'They're conning you'.
Where to find Peter Senior online
Books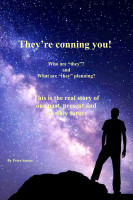 They're Conning You! Who Are 'They', and What Are 'They' Planning? This is the Real Story of Our Past, Present and Possible Future.
by

Peter Senior
(4.33 from 6 reviews)
They're conning you! may cause 'cognitive dissonance' as it examines evidence that much of what we thought we knew is wrong. Sections include aliens and UFOs, technologies to construct ancient structures, consciousness, false flags and financial treason by the 'deep state'. The question of who 'they' are is discussed in depth. Some potential future scenarios complete this compelling narrative.
Peter Senior's tag cloud