Peter Nulty
I grew up in farm country in central New Jersey, the second of four siblings. By today's standards, we had a deliriously free childhood: some chores, of course, but also fishing, swimming, playing pick-up baseball and football, ice skating, snowball fights, camping with the Boy Scouts in the nearby Sourland Mountains, and generally making mischief.

After finishing eighth grade in a two room school, I went to Princeton High School, attended Wesleyan University in Connecticut, and received a Masters Degree from Columbia University's School of International Affairs.

I spent two years in the Peace Corps teaching English in a remote Turkish village near the Russian border and I taught social studies for one year in a high school in Harlem and then moved to Washington D.C. where I created a newsletter reporting on Middle East affairs and edited a scholarly publication called The Middle East Journal.

When the first oil shortage hit in the mid 1970s, I joined Fortune magazine to write about energy and later about a host of issues including finance, management and technology. After more than 20 years at Fortune, I became a communications specialist at McKinsey & Co. and later director of publications at Sarah Lawrence College and an editor at CNBC.com. Today I am semi-retired, writing a blog two days a week called Wells Fargo Daily Advantage.

My wife Kathy Valyi and I live in the Bronx overlooking the grand, historical Hudson River. We have three grown children, one of whom provided the cover art for "Pilgrim in the New Retirement."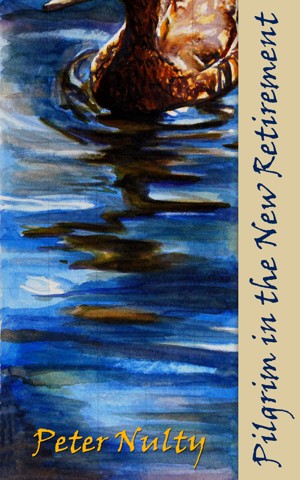 Pilgrim in the New Retirement
by

Peter Nulty
(4.00 from 1 review)
Who writes about retirement? Usually it is insurance companies, travel agents, and medical professionals. And what do these outsiders say? "Live the dream!" or "Don't do that!" This diary is the real thing. A noted journalist writes with love and humor about his first "Golden Years," a time full of opportunity and discovery.