Natalie Cleary
Biography
I really like birds, watching them fly while missing branches, chasing each other catching insects in flight. I once watched as a magpie picked up a crust of bread which someone had thrown out for it, and flew to a small puddle of water and dropped the crust in it. Then the magpie turned the crust over till it was well soaked and soft, and then began to eat it.
I would despair if there were no birds to watch and enjoy, or to have no birdsong to listen to. And that's apart from all the problems that having no birds in the world would bring.
We need to have safe and clean environments for all the feathered creatures of the world. I do hope that my book "Avian Flu" will make everyone realise what would happen, not only to birds, but to everyone, if the birds of the world were wiped out.
Books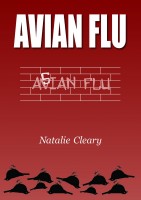 Avian Flu
by

Natalie Cleary
Price:
$6.99 USD.
Words: 68,230.
Language: Australian English.
Published: August 22, 2016
. Categories:
Fiction
»
Adventure
»
General
Imagine a world without birds … A virulent strain of bird flu is decimating birds and poultry throughout the world. This book teaches us about the flyways of migrating birds. It shows how dependent we are on poultry and eggs. It depicts a world silent of birdsong and one with increasing insects, snakes and rodents. We learn to cope ... but our lives will never be the same … ever.
Natalie Cleary's tag cloud