Holly Iris Scott
Biography
I grew up in Southern California. I attribute my love of reading and writing to my parents who insisted on regular quiet time for reading and bedtime stories. The books I read and my life experiences fed my imagination. As a result, I began writing at 13 years old. I enjoy writing short stories, poems, lyrics, plays, novels and studying the Vietnamese language and culture. I have published a short story, several poems and wrote and performed a song for the movie soundtrack Western Skies. With my work, I document the human experience of love, loss, tragedy and redemption.
Books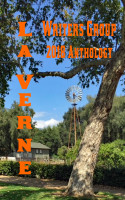 The La Verne Writers' Group 2018 Anthology
by

Scott Skipper

,

Tamara Miller

,

Lisa Griffiths

,

AASharri

,

Jonathan Chaus

,

Toni Eastwood

, &

Holly Iris Scott
The 2018 LVWG Anthology offers something for everybody: humor, grit, warmth, action and adventure, poetry, YA, children's stories, and somethings that we don't quite know what they are.
Holly Iris Scott's tag cloud