Phil NEWMAN
Biography
Teacher of English as a Foreign Language - fell into this in desperation. I needed a job. Now I can't escape. Previously worked in mental health & handicap, then hoped a degree in social anthropology and sociology from Oxford would launch a new career. It didn't. So have taught English language to business students for 15 years. I've actually enjoyed this, found my niche and settled into the profession.

Interest: Writing - well, has to be doesn't it? Fiction & non-fiction works now grace various blogs of mine.
Photography - A long time love (30 yrs). Studied this at college before the digital age (1985). Two photo blogs.
Acoustic guitar - from delta blues to jazz & Celtic. Another long time love.
Sports - indoors and out have tried most. Can't stand watching football though. Not a good spectator in life.
Beer - well, I live in France and hardly ever get a taste of decent British beer, so I can say this. Absence makes....

What else do you want to know? I'm a good-looking, intelligent, witty, sophisticated bloke. Enough?
Books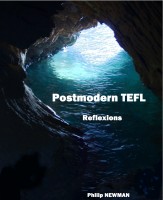 Postmodern TEFL
by

Phil NEWMAN
Reflexions of a Business English teachers concerning the daily practice of English language teaching to professional adults in the postmodern 21st century.
Phil NEWMAN's tag cloud