Phillip Paxton
Biography
Mr. Paxton has a long history in the entertainment industry. He began performing at an early age, appearing in many feature films and television series. He turned from performing to producing, directing and adapting screenplays from novels. His insights into film production came in handy in writing this romantic mystery set in the Western North Carolina Mountains. Through flashbacks and a series of personal and political intertwining story lines, the life of the protagonist proves that redemption can come at any age. Mr. Paxton lives with his wife in the North Georgia Mountains.
Books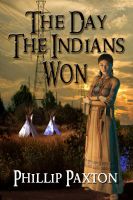 The Day the Indians Won
Max Novak has become a recluse since losing his wife in a freak accident. When a high tension power line threatens his mountain hideaway he gets involved and is determined to fight the eminent domain law that seems to have the power company winning the fight hands down.
Phillip Paxton's tag cloud