Piranha Yama LLC
Publisher info
Dr. Bill Kalatsky is a New York City based holistic chiropractor, educator and author. He specializes in hydration, organic nutrition and healing modalities for healthy living. Dr. Bill often contributes to health and lifestyle publications, writing on hydration, yoga and meditation for adults and kids. He believes starting kids on a healthy path as early as possible is paramount to their development and to making the world a better place for us all. His children's book, "Piranha Yama and The Art of Non-Biting", is the first in a series of Yama adventures.
Books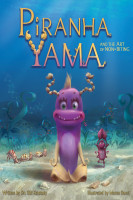 Piranha Yama and the Art of Non-Biting
by

Piranha Yama LLC
When a fierce and adorable piranha gets captured in a net her world gets turned upside down. She meets her ancient teacher who trains her in the Art of Non-Biting, bringing her one step closer to greatness.
Piranha Yama LLC's tag cloud