Kevin Miller
Biography
Personally, I believe success should be measured not so much by the position that one has reached in life but by the obstacles which one had to overcome while trying to succeed. Enter Kevin Miller, a Baltimore native currently in federal prison.

I came into the publishing business with my back against the wall, blindfolded, with my hands tied behind my back, it seemed! To get to this point in my writing career it took a great deal of perseverance, unwavering passion and the grace of God to finally be in a position to bring my books to fruition. Being incarcerated is one thing; trying to publish a book from behind these walls is by far the hardest endeavor I ever pursued. For starters, I didn't have a computer at my disposal, no team on the outside supporting me, no capital to invest and I wasn't even sure what it took to get here. From every aspect I literally had to grind from the ground up by writing my books in pencil, having them typed on an old-school typewriter, stumbling through editing and revisions while making sacrifices that at times left no commissary in my locker but only the utensils need to birth my book. To be at this point is a true blessing and nothing short of a miracle.

At the beginning of this pursuit, I had to leave criminal thinking behind and enter the world of business which consisted of a lot of research, delving into literature and focus groups related to the business of books and publishing. Through years of that I was able to obtain a profound understanding of my road ahead and began writing with a purpose. What motivated me most was having some of my close friends and family turn their backs on me when I came to prison. At one point I felt like the guy counted out whose opinion didn't matter now that he was done and I never wanted to be in that type of position. I searched deep within and realized I possessed all the capabilities, attributes and the mentality required to improve my condition so I put all my energy into completing this book. Where I came from, many don't make it to their 21st birthday so writing books was more than a means to acquire financial stability. It was a way to prove to the few people still riding with me that I was taking my time in here seriously. I have evolved into a man that can make decisions that are conducive to keeping me on the right track. To me, witnessing those people glow on the inside over my accomplishments when they know the road I had to travel to get here is a true blessing. I know what its like to grow up in poverty, foster homes, group homes, as well as stagnating in the streets with no goals or ambition. I was the kid that dropped out of school in 6th grade to sell drugs to show my family I could be "someone". That lifestyle was a dead end. This book is by far my greatest accomplishment.

Now that I'm finally here, I'm looking in front behind and side to side at my small circle of true friends that came into my life during this journey, who pulled me closer to the realization of this dream, after seeing the hard work I put in already. They pulled my back off the wall, took the blindfold off my face, held my hands, opened my arms and helped me spread my wings so I could truly fly. While soaring, those are the people who you help me to repay with the purchase of my books.

To keep in touch, follow me via social media: twitter@kevinmiller32.

God bless you and keep you all throughout your personal journey!
Books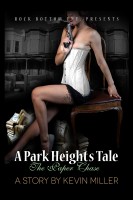 A Park Heights Tale
by

Kevin Miller
Park Heights is a world-renowned breeding ground for hustlers. Faced with many obstacles, Smoove quickly learns that friends are enemies waiting to happen. Wanda and Janice use the most powerful tool known to man to get what they want. Ties to the underworld embark them on a paper chase of their own trying to ball in the fast lane. With a federal agent hot on all their tails, will anybody escape?
Kevin Miller's tag cloud