Raj Saganty
Biography
The Author is a Sr. Pastor, founder and Chairman of his ministries, with spiritual gifts and Lord Jesus
performed healings, miracles and wonders in his life and in his ministry, because of Lord Jesus's Grace
alone for which he would be thankful to Lord Jesus forever. Amen.

Lord Jesus's love is Amazing and Wonderful for his people and even to the world, the more we ask and the more we cry and pour out our hearts before Lord Jesus, the more we would be heard and blessed. Be Blessed in Lord Jesus name.
Lord Jesus loves you whoever and however you are, His love is unconditional for you. Lord Jesus has great plans and blessings for you and for your family and He also want you receive them from Heaven in Lord Jesus name.

Lord Jesus's created you as head but not as tail. Lord Jesus created you for victory but not for failure. The word of God says "Christ Himself is the head of man". God gave you everything He has and He made you in His Image.
Deuteronomy 28:13 The LORD will make you the head, not the tail. If you pay attention to the commands of the LORD your God that I give you this day and carefully follow them, you will always be at the top, never at the bottom.
Books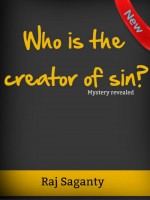 Who Is The Creator Of Sin?
by

Raj Saganty
The Greatest mystery and a daunting question that left believers and unbelievers unanswered was "Who is the creator of sin"? and "How sin came into existence"?. But the mystery is revealed by The Grace of God, for the Honor and Glory of Lord Jesus alone. Lord Jesus said John 8:32 Then you will know the truth, and the truth will set you free."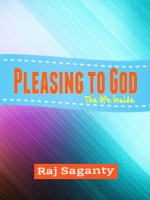 Pleasing To God
by

Raj Saganty
This book is for all believers and disciples of Christ and for all stages of their Spiritual lives. It includes deep word of God and helps the reader to come closer to God and to Please God. Includes topics "Lord Jesus Love for you - No Greater love than this", "How sin came into existence?", Evil and suffering - Is God unjust?, Increasing in faith, Pure Heart, Permanent Salvation and more......
Raj Saganty's tag cloud