Margot Hilaire
Biography
What must be "Most important" in this World and the responsibility of every culture and country are children of War. We see mutilated Soldiers but rarely the innocent, mutilated children. If so, the War would be over soon.
The need to take care of them belongs to all of us, regardless of religion you belong to.
Your donation to any children's charity of your choice is blessed by ten fault, as
promised by God !
If you the reader is indigent just send a thought of good will asking God who is God to all
to take care of those who need a God given chance.
I believe Robert Stoevesand was used by fate to be instrumental joining a Human smugglers outfit that saved many from a horrid fate in there own country than possessed by true Evil. Numerous children and there children are now in this World had it not been for brave man whom never receipt any recognition for them risking there live to serve those in need.
Books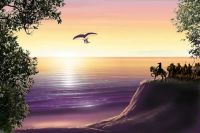 The Adventures of Polly and Zack
by

Margot Hilaire
The "Adventures of Polly and Zack" is a unique children's story that describes a faraway island that holds a great alligator kingdom. The main characters, Polly and Zack, help to abolish an ancient rule and bring peace to all alligators on the island.
Margot Hilaire's tag cloud