John Brace
Biography
My name is John Brace. I have been in the swimming pool industry since 1995. That is also the year I graduated high school. I own a swimming pool service and repair company and personally maintain 120 pools per week. I started my own business in 1999 and have serviced and repaired over 850 pools in that time! I am a licensed CA contractor and have replaced hundreds of pool pumps, motors, filters, heaters, pool cleaners, auto chlorinators, automated electronic controls, and so much more. I am a very honest person and have always run my business that way. I never sell someone something they do not need! I feel it pays off in the end with their trust. I end up making more money that way and I can sleep at night. I can't complain about my business, it is still thriving to this day. Even through the tough economy we have been having I don't have open spots for new customers on my route unless they are right next door to a current pool. I wrote this book for a few reasons. The first is because I have heard too many times that after just a few minutes of explaining something to someone they have gained more understanding than they had in ten years or more. I figure I should share my knowledge with more people that are confused and need my help. Another reason is that I have realized that being 35 years old only happens once and my 4 kids are all growing up so fast. Being in high demand at work is great but means I have less time with my family. I would like to create extra money for my family that does not take so much of my time. How's that for honest? I would love to help you with your pool and make owning one easy and question free. After reading this book you could start your own swimming pool service company if you wanted... or just be able to take care of yours with a lot less money and no more fear about the unknown. I hope you enjoy this book and refer back to it whenever you need it.
Where to find John Brace online
Books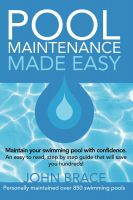 Pool Maintenance Made Easy
by

John Brace
A step by step guide to easy swimming pool maintenance. Save hundreds per year avoiding the purchase of unneeded chemicals. Maintain a clean, clear, and health swimming pool. Feel good about knowing exactly what to do depending on the season to maintain your pool. Written by someone who has run a retail swimming pool store and personally maintained over 850 swimming pools since 1995.
John Brace's tag cloud