Phyllis B. Popkin
Biography
Phyllis Popkin grew up in Philadelphia, Pennsylvania. She graduated from the School of Education at the University of Pennsylvania, and then taught fourth grade for 6 years in an inner-city school in West Philadelphia. She has been married for 57 years to her husband Arnie, whom she met at Penn. He practiced ophthalmology for 47 years and is also a very accomplished classical pianist.

They lived in Princeton, N.J. for 14 years, where they helped start a holistic health center. Phyllis also served as president of the League of Women Voters of the Princeton area and taught classes in P.E.T. (Parent Effectiveness Training).

Despite a very happy life in Princeton raising their two daughters and Arnie's successful ophthalmology practice, intuition led them to move to Charlottesville, VA in 1980. Both Phyllis and Arnie had taken several courses and workshops on meditation and intuition. Her intuition led her to write her first three books entitled And That's That!, Have You Seen Any Good Miracles Lately?, and Read Aloud Poems for a Happier World! She then gave many talks and workshops to nurses, social workers, community groups, and churches on laughter, stress reduction, and intuition. She likes to be called a Happiness Consultant or the Laughter Lady.

Her increasing intuitive skills led to her receiving many phone calls and other requests for help with a wide variety of problems. An amazing personal experience in which her recently deceased father appeared to her led to her realization that she could get messages from deceased people and pets. After many such successful messages she knew she had to write this book to help other people grieve less by realizing that their loved ones are still living, but in a different dimension.
Books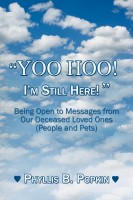 "Yoo Hoo! I'm Still Here!" - Being Open to Messages from Our Deceased Loved Ones (People and Pets)
by

Phyllis B. Popkin
31 true stories about Phyllis' conversations with deceased people and pets. Her goals are: (1) to have people relax more and grieve less, freeing them to pursue their own God-given purpose and talents; and (2) to realize that their loved ones are often frustrated because they can't communicate with them! People can learn to do this themselves or find someone who can.
Phyllis B. Popkin's tag cloud