Prasad Perera
Biography
Prasad Perera is a servant of Lord Jesus with a ministry in Sri Lanka and overseas. He is a Teacher, Preacher, Writer and Minister in Healing and Deliverance. His ministry spans toward other servants of God, other Believers and the General Public. He is often sought for preaching, teaching, healing, deliverance, counselling, prayer, intercession, financial breakthroughs, marriage restoration etc.
Series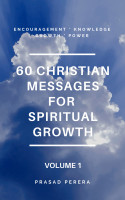 60 Christian Messages for Spiritual Growth
by

Prasad Perera
In December 2017 we commenced sending-out Christian messages to a selected group of believers / followers to encourage them and to foster spiritual growth. Each ebook in this series titled '60 CHRISTIAN MESSAGES FOR SPIRITUAL GROWTH' contains 60 messages (in order) sent-out on a social messaging app to this initial group of believers. These messages contain an initial message which identifies them as a chosen remnant group of people through whom God's miracles are to be witnessed to the world. My dear reader I believe you too are chosen of God in a special way and that you would also benefit the same through these messages contained in these ebooks. With many benefits and multiple reading options such as in order, one per day, as many as you like, to suit your current situation and need, you are sure to benefit from reading and practicing what you learn in these ebooks. So, take this opportunity to learn, be encouraged, strengthened, rightly directed and to be guided to spiritual growth in a steady, consistent, effective and efficient manner, by investing in this ebook series as it unveil. This will be an investment that you would enjoy and appreciate years to come from now!
Books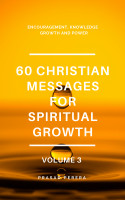 60 Christian Messages for Spiritual Growth Volume 3
by

Prasad Perera
In December 2017 we commenced sending-out Christian messages to a selected group of believers / followers to encourage them and to foster spiritual growth. The 3rd 60 messages are compiled into this eBook. So, take this opportunity to learn, be encouraged, strengthened, rightly directed and to be guided to spiritual growth in a steady, consistent, effective and efficient manner reading this book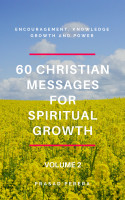 60 Christian Messages for Spiritual Growth Volume 2
by

Prasad Perera
In December 2017 we commenced sending-out Christian messages to a selected group of believers / followers to encourage them and to foster spiritual growth. The 2nd 60 messages are compiled into this eBook. So, take this opportunity to learn, be encouraged, strengthened, rightly directed and to be guided to spiritual growth in a steady, consistent, effective and efficient manner reading this book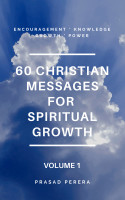 60 Christian Messages for Spiritual Growth Volume 1
by

Prasad Perera
In December 2017 we commenced sending-out Christian messages to a selected group of believers / followers to encourage them and to foster spiritual growth. The first 60 messages are compiled into this eBook. So, take this opportunity to learn, be encouraged, strengthened, rightly directed and to be guided to spiritual growth in a steady, consistent, effective and efficient manner reading this book
Prasad Perera's tag cloud