Prophetic Teacher Nomsa
Biography
Prophetic Teacher Nomsa is a Teacher of Gods Word, and Leader of her own Church; Stone of Light Ministries, Tabernacle of Restoration, situated in the Vaal Triangle. She also has a Kingdom Bible College. She believes in total deliverance, Healing, Baptism, sweet communion and all the other gifts God has given His people. You can contact Prophetic Teacher Nomsa on PropheticTeacherNomsa@gamail.com if you wish to invite her to your congregation to bless them with a spiritual upliftment Message.
Smashwords Interview
Books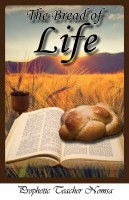 The Bread Of Life
by

Prophetic Teacher Nomsa
God's Divine Love for us is clearly portrayed in these few Teachings regarding the "Bitterness of the Cross"; the "Cup of Love" and "The Bread of Life". No-where else has the sweet communion been explained in such a dramatic way!
Prophetic Teacher Nomsa's tag cloud