Quinn Quade
Biography
Quinn Quade is an enthusiastic mariner, having lived along the coastal waters of California most of her life. Once the owner of her own nautical bookstore, she has many years of experience in the sailing business and has completed numerous voyages on pleasure craft. The author writes from her home in Santa Cruz, California.
Books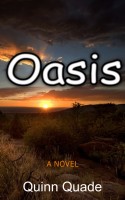 Oasis: A Novel
by

Quinn Quade
After a complete upheaval in her personal life, a young woman finds herself living in a small camper on isolated, unimproved property in Southern New Mexico. With no idea of her next step or what could possibly lie in her future, she is immobilized by despair and confusion; until she encounters her Mescalero Apache neighbors from a neighboring Indian Reservation.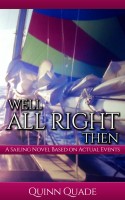 Well All Right Then
by

Quinn Quade
In her Vancouver 25-foot sailboat, a young woman sets sail on a voyage to embrace the end of her life and discovers what might be the beginning. The story includes her actual sailing experiences which are wrapped in a fictional glove of life's whimsy and intrigue. Finally she sails straight into an unforgettable human drama of rescue and survival.
Quinn Quade's tag cloud