Rowen Aether
Biography
There's so much drama in the world already, do you really want mine? But if you like high fantasy with satire, irony, humor and old traditions turned on their head then you'll like my book. Think Dogma meets Lord of the Rings. I could bore you with the details of my life but it's all about the story so why waste your time. I welcome feedback, constructive criticism, and communication with my readers. Tell me what you like, tell me what you don't like, tell me what you want to see in the next book, who do you want to die, you know; the important stuff.
Smashwords Interview
Books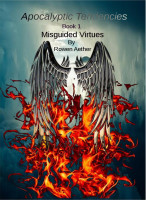 Misguided Virtues
by

Rowen Aether
Can an unruly band of misfit rogues attempt to stop the apocalypse? Angels, demons, humans, and Satan himself, along with a dragon who can see every possible path any creature may walk acting as guide, it becomes a race to gather allies. They must find the seals and the mortals that bear them. If the seals shatter the Horsemen will ride, and the apocalypse will wipe out the Kingdom of Man.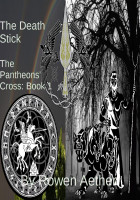 The Death Stick (The Pantheons' Cross Book 1)
by

Rowen Aether
When the Staff of the Dead, holding the power to command a zombie army and the source of Hades' magick, goes missing from the Underworld, Hades enlists the help of Odin to retrieve it. With cameos from Zeus, Lucipher, and the Grim Reaper, will they ever recover the Death Stick? Featuring characters from Misguided Virtues (Apocalyptic Tendencies Book 1). This is a short story under 20K words.
Rowen Aether's tag cloud