Robert Carter
Biography
I am a retired headteacher. I have always had a love of history and have previously had two westerns published in hardback, along with several scripts for science fiction comics.

I live in Staffordshire,England with my very supportive wife, who contributed a great deal to getting this book published.
Books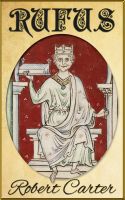 Rufus
by

Robert Carter
An historical novel based upon the life of William 11, commonly known as Rufus. It charts the period of English history from his accession to the throne of England in 1087 to his untimely death in 1100.
Robert Carter's tag cloud