Roy Chitwood
Biography
Background: Roy E. Chitwood, CSP, CSE

Roy Chitwood has been a salesman his entire career: First in the insurance industry, and since 1976 as president of Max Sacks International (MSI), the firm which has been teaching sales professionals to sell more effectively since 1958.

He started his selling career when he became an insurance agent in Los Angeles for Midland National Life Insurance Company. He quickly moved into positions as branch manager, district manager, and then as regional manager for a companion company, Westland Life Insurance Company. He built his region from a one-room office into the top-producing region in the company, with 28 offices throughout Southern California and Arizona.

Roy moved to Max Sacks International in 1976, when he acquired the firm. Max Sacks International's flagship program, called the Track Selling System™: A Scientific Selling Procedure, stresses managing selling as a process. Through the programs and services provided by Max Sacks International, Roy has helped improve the sales performance of more than 250,000 sales and sales management personnel from thousands of firms in 21 countries including Xerox, Bank of America, Hewlett-Packard, Cisco, Coca-Cola, General Dynamics, Nextel, China Mobile and over 3,000 others.

His philosophy is that a professional salesperson makes a sales call for only one reason, and that reason is to serve the customer. When selling becomes a procedure it ceases to be a problem. If it is not a procedure it will always be a problem.

Roy is the former president and chairman of Sales and Marketing Executives International (SMEI) and Sales and Marketing Executives Association of Los Angeles (SMELA). He is a member and Certified Speaking Professional (CSP) of the National Speakers Association. Less than 6% of the members of the association have earned this prestigious designation.

His book, World Class Selling: The Complete Selling Process, Second Edition published by Book Publishers Network is available at your local bookstore or at www.maxsacks.com.
Books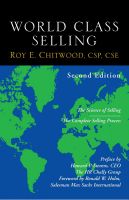 World Class Selling, 2nd edition
by

Roy Chitwood
World Class Selling, 2nd edition is an about-face from obsolete hard-sell tactics. It eliminates the stereotype of salespeople maneuvering, ambushing, tricking, or cajoling customers into buying a product or service. World Class Selling, 2nd edition involves doing things for the client rather than to the client. If the customer doesn't benefit from the sale, the sale shouldn't take place.
Roy Chitwood's tag cloud