Richard Tobin
Biography
Things have a way of going round and coming round; for author Richard Tobin it's been so with writing and contentment in life. Richard began writing later in life as a result of an ongoing battle with mental illness. The recent passing of his mother whom he lived with and helped care for has brought Richard an independence that has encouraged him to focus more on writing. An eager attitude and an unsaturated desire to write has led Richard Tobin to proudly become a published author of multiple novels, most notably Skating On Thick Ice, The Cuban Connection, Old Well Salted Wounds, and has been featured in Mentality Magazine, Mystical Rose and Eber & Wein's New Horizons Anthology of Poetry. His success is due largely in part with the help and encouragement of a brother, an old family friend and the local public library through impromptu writing classes, patience and critique.

Richard Tobin grew up on the East Coast of Canada – Cape Breton Island, Sydney, Nova Scotia – in a large family of 9 fighting poverty as the coal mines began to shut down. Finding writing has helped Richard integrate into society in an authentic and fulfilling way as a full time writer and author.
Books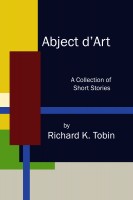 Abject d'Art
by

Richard Tobin
Abject d'Art is a collection of short stories written by Canadian Maritime author Richard K. Tobin that will appeal to 13 - 19 year old teenagers looking for a sense of adventure and mystery through ongoing battles with society and culture.
Richard Tobin's tag cloud