RL Salon
Biography
R. L. Salon lives with her perfect husband of 42 years; they divide their time between Manchester, NH and Westport, MA. They share three brilliant children, each with an above average spouse, and three exceptional grandchildren, and are still counting. This is her first novel. One million "Likes" and she might meet Oprah.
Books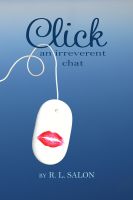 Click - An Irreverent Chat
by

RL Salon
Paige still believes she is on loan to her husband and that her fantasy man will come to whisk her away to the life she was meant to live. When Paige embarks upon an erotic journey through Internet chat rooms, she meets an attractive stranger and develops a liaison in which fantasy and reality co-exist. Paige chats about life with the wit and insight of a woman with irregular estrogen production.
RL Salon's tag cloud