R.M.W. French
Biography
Roberta McCatty Willingham French was the child of a career Army officer and grew up a rootless American. She began first grade in Panama and went on to attend a total of five elementary schools, six high schools and three universities in north, south, east and west United States. Always the strange new kid, she became an avid reader, with authors of a great variety of books her closest friends. She has always loved science fiction adventures. In college she discovered the fascinating real science story of evolution written in stone and bone. She had five children and outlived two husbands and a daughter. She is now happily and permanently settled in a small town in beautiful North Carolina and enjoys driving trips through the countryside and good times with her extended family.
Books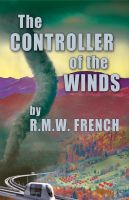 The Controller of the Winds
by

R.M.W. French
Americans have established a pioneer colony on Eos, an Earth like planet where plants and animals exist in an ecosystem of worldwide repetitive destruction by tornadoes. There are no signs of human beings to oppose their invasion. When tornadoes threaten the colony, weather scientists, pilots and missileers in parazopters destroy them with kinetic thermal and frigid interrupters.
R.M.W. French's tag cloud