Rick Mammana Sr.
Biography
Hello,
I am a hard working laborer from the North East United States. I have been writing poetry and short stories for many years in my spare time. I hope you enjoy some of my writings. I will be publishing more in the near future.
Peace be with you.
Books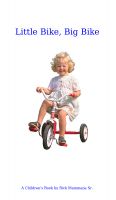 Little Bike, Big Bike
By
Rick Mammana Sr.
You set the price! Words: 110. Language: English. Published: December 24, 2013. Category: Nonfiction
A little girls daddy gives her a little bike, and he shows her how to ride it. When she gets a little bigger he gives her a big bike. She is so happy riding her bike.
Rick Mammana Sr.'s tag cloud