Jim Broker
Biography
Jim Broker was born in 1939 in a farmhouse about middle of Holt County, Missouri. He was born into a "gun family" and taught to shoot firearms fast and accurately, beginning at the age of four or five years. His grandfather deemed it a necessary skill for a Missouri boy to have.

On one branch of his family tree was a Methodist circuit rider and on another branch was a gunfighter who must go un-named here. Jim took after both and became both a marshal and an ordained minister, preaching in little country churches in various parts of Missouri, Kansas, Nebraska and Iowa when called to fill a pulpit for a Sunday or for a week's revival. He knew his Bible and was not afraid of stepping on toes. Sometimes it's gotta hurt to help.
Books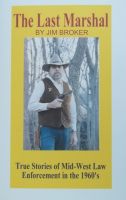 The Last Marshal
by

Jim Broker
Mound City, situated in the northwest corner of the great state of Missouri, is known by some as "The Place Where The West Began". Before modern day police departments, many small mid-western town were policed by a marshal and his deputy. If you like history and law enforcement, experience what law enforcement was like in Mound City in the 60's, seen through the eyes of Deputy Marshal Jim Broker.
Jim Broker's tag cloud