R.S Spett
Biography
I'm (fairly) young but have the benefit of looking about 10 years younger than I actually am. I love writing and can get carried away, not stopping until I have finished. Unfortunately this does mean that I can go two or three days without sleep (My tweets start getting really bizarre by this point). I do post a lot on Twitter, mainly because I have so many random things flying around in my head it helps to send them to something. I live alone, I have no children and no pets. If you was to put a secret camera somewhere in my home, you would be fascinated to say the least.
Where to find R.S Spett online
Books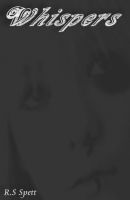 BD Series
by

R.S Spett
How long can you hide from your past. Follow Brooke Daniels on the emotion roller coaster that is her life. Secrets are revealed. Betrayal is at an all time high. Friends ships are born and trust is killed. If you can't trust yourself how can you trust anyone else?
R.S Spett's tag cloud