Wannetta Ricks
Biography
Wannetta Ricks has a BFA in Creative Writing from Full Sail University. She is currently writing, and enhancing her skills in Scriptwriting for featured film and television shows, In her spare time she likes to write Short Stories, Poems, and like to take long drives and long walks which helps her create her dreams of writing.
Where to find Wannetta Ricks online
Books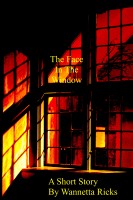 The Face in the Window
by

Wannetta Ricks
This short story about a teenager name Desiree, that comes from a broken home. Her mother is an alcoholic, and the father works may hours she lives in a house where everything is in disarray. Desiree finds out the hard way about life, but still want to pursue her dreams as a Lawyer. Does she over come her obstacles and become a Lawyer? Or does she let life's mishaps pull her down?
Wannetta Ricks' tag cloud