Rachael Mann
Rachael Mann is a writer and editor with WilliamsTown Communications. She graduated from Purdue University in West Lafayette, IN, in 2003 with a Bachelor of Arts degree in Secondary English Education. Prior to coming to WilliamsTown, she worked as a private tutor in Naperville, IL, and with Angie's List in Indianapolis, IN.

Since coming to WilliamsTown in 2008, Rachael's primary focus has been creating educational materials on scientific and business topics. She has edited and developed materials for Pearson Education, John Wiley and Sons, and Nature Education, among others. During this time, she has worked with Pearson Education as a developmental editor on the 7th through 11th editions of Using MIS and the 3rd through 9th editions of Experiencing MIS by David Kroenke and Randall Boyle. She has also done extensive work on the ancillary materials for Pearson's suite of medical terminology textbooks. In 2016, she co-authored Enhancing Activities of Daily Living with Laura Town and Karen Hoffman for Omega Press, and she has contributed to a number of other titles written by Laura and Karen since that time.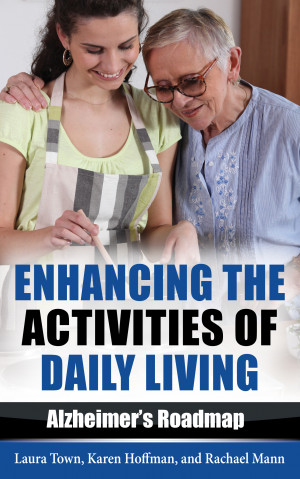 Enhancing the Activities of Daily Living
by

Laura Town

,

Karen Hoffman

, &

Rachael Mann
For people with Alzheimer's disease, completing basic daily self-care tasks is a difficult, frustrating process. For caregivers, knowing when and how to help is a struggle. Through a combination of checklist and practical advice, this book helps you provide safe, encouraging care with bathing, dressing, toileting, and communicating while coping with the stress that accompanies caregiving.