Rachel Verdon
Biography
Rachel Verdon, now residing in Sacramento, void of ixodes ticks, was born and raised in Connecticut where Lyme disease was first identified. Her childhood home town, Glastonbury, is just a few miles north of Old Lyme, Connecticut, where Lyme disease was first diagnosed in the 1970s. After a lifetime of poor health and the tragic deaths of eleven next door neighbors in Glastonbury involving suicides, drugs and autoimmune diseases going back as far as the 1950s, she was prompted to investigate their cause. Once diagnosed with 'chronic borrilliosis,' the Lyme spirochete, by Dr. Paul Lavoie in San Francisco in 1987, it became apparent to the author this was not a brand new disease of the 70s. The resulting seventeen year investigation for the origin of Lyme disease has uncovered a scandalous collaboration between the Nazis and the Soviet Union in biological warfare through World War I and World War II. Were Soyuzpushnina, the Soviet fur and shipping industry and Amtorg Trading Company their pawns? Political bias by both right wing and left wing historians throughout the past century have been our biggest obstacle in seeking answers. Truth is the biggest weapon in a world of liars, murderers and thieves. The vectors of disease, drugs and poverty are rats; the furry ones, political ones, and medical ones. Let the rat wars begin!
Where to buy in print
Books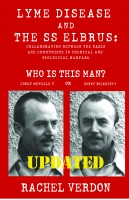 Lyme Disease and the SS Elbrus
by

Rachel Verdon
(4.67)
How many Americans have suffered from Lyme disease, arthritis, Alzheimer's and multiple sclerosis? Do we write them off as necessary losses for the good of the state? Do we say 'everybody's got to get stoned' and 'go kill yourselves'? How do we solve this Communist plot to destroy America from within, and how do we cure its victims?
Rachel Verdon's tag cloud