Kathryn Rantala
Biography
Kathryn Rantala's fiction and poetry have appeared in The Denver Quarterly, Field, Iowa Review, Archipelago, Painted Bride Quarterly, and many other places since 1974. She is the author of "Traveling With the Primates" (2008), "The Plant Waterer and other things in common" (2006), "Missing Pieces, a coroner's companion" (1999), and two chapbooks, "As If They Were a Basket" (2008) and "The Dark Man" (1975). She founded Ravenna Press (ravennapress.com), Snow Monkey and The Anemone Sidecar.
Where to buy in print
Books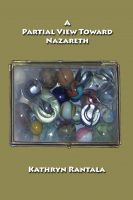 A Partial View Toward Nazareth
by

Kathryn Rantala
Kathryn Rantala presents five narratives in prose poetry that explore how the mind orders the universe, how we interpret past and present life experiences, especially relating to grief and loss, under the influence of art and architecture, music, natural history, other formal studies and pop culture--and vice versa.
Kathryn Rantala's tag cloud