Raph Hallows
Biography
Just another man on a mission. What is that mission you ask? Only the very best (or at least the best I can produce) in entertaining writing. Writing is a passion of mine, and I'm hoping to share that with as many people as possible. Some of my other passions include participating Lucha, close combat weapons of all varieties, wrestling dinosaurs (still working on that one), and anything nerdy! If you have any questions, comments, criticisms, or ideas, please feel free to let me know on my facebook page or send me a message. Thank you, and I hope you enjoy.
Where to find Raph Hallows online
Books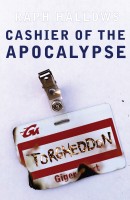 Cashier of the Apocalypse
by

Raph Hallows
(5.00)
Phil is your run of the mill retail employee, with no prospects, no ambition, and no spine. All of his days are spent just trying to get to the next one. Unfortunately for Phil, his world gets turned upside down when a mysterious divinity chooses Phil to become his avatar of destruction!
Raph Hallows' tag cloud