Howard Wells
Biography
Dr. Howard Wells was born in 1921 in a remote mountain village in Lesutho. He was educated in South Africa, and saw active military service in WW2 in Italy. He has worked as a Mining Engineer, an international mining and management consultant, a farmer, a contractor in the field of shaft sinking and tunneling, and as an educator. He immigrated to the USA in 1977 to join the faculty of the University of Utah in Salt Lake City. He retired in 1986 as Professor Emeritus of Mining Engineering; in 1992 he moved with his wife to his present residence in Florida,where he has happily pursued his hobbies of painting in water colors and oils, and writing poetry about matters that are perhaps more relevant in Golden Years than in the earlier days of earning a living.
Where to find Howard Wells online
Books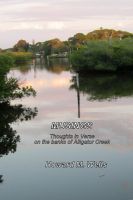 Musings
by

Howard Wells
thoughts in verse on the banks of alligator creek. some poetry inspired by the beauty of this location, and as a retirement hobby to record memorable occasions for future enjoyment.
Howard Wells' tag cloud