Ravens Dagger
Biography
The Raven (Genus corvus stultus scriptor) is a rare and exceptionally idiotic creature.

Within its normal habitat of thick prose and thin schedules it creates works of literary fiction of cringe-worthy nature.

The Raven, is a fanidor, it feeds by creating works that inspire fear in its prey. To do so, the Raven creates lovable worlds and characters then proceeds to kill them with glee as its prey watches in horror. It also consumes a diet of 'D'awws' and the adoration of foolish fans.

Some remarkable feats of rush-writing, sucking up to pre-readers and pretending to be intelligent can be witnessed with careful observation of the Raven in its natural habitat. The creature has been known to violate its ability to post blogs and write dreadful ditties.

When not turning out works of world-destruction, it writes sappy romances in the darkness of its room and self-inspects heavily to the detriment of its symbiotic editors (without which it mumbles incoherently).

Has been observed working with Saiyans, military ponies, cacti and, on occasions, antagonists.
Books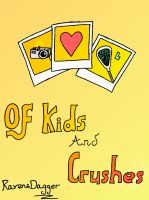 Of Kids and Crushes
by

Ravens Dagger
Lucas is not the luckiest boy, far from it. He's not popular nor fit, and the girl he loves most can't get her head out of the field. Some of that changes when he finally gets the courage and misfortune needed to break out of his shell.
Ravens Dagger's tag cloud