Raymond Keith Williamson
Biography
The Reverend Dr Ray Williamson is an Anglican priest, a graduate of Sydney and Newcastle universities and of St John's Theological College, Morpeth, and ordained in Christ Church Cathedral, Newcastle. He has been a theological teacher throughout his ordained ministry as well as serving in several parishes in Newcastle, Sydney and Canberra. He was the General Secretary of the NSW Ecumenical Council for twenty-one years, during which time he also acted as the secretary to two national ecumenical commissions. In 1997, he was the co-founder of and continues to work with the Centre for Ecumenical Studies. His PhD thesis was published (An Introduction to Hegel's Philosophy of Religion) in 1984; he has edited two volumes of documents from the bilateral dialogues between churches in Australia (Stages on the Way, 1994; and Stages on the Way II, 2007); and his history of councils of churches in Australia, Pilgrims of Hope: An Ecumenical Journey 1980-2010, was published in 2014. He was awarded an Order of Australia Medal in 2008 for his ecumenical work. He is married to the Reverend Dr Erica Mathieson, and has two daughters and two grandsons.
Where to buy in print
Books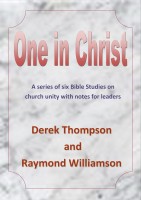 One in Christ
by

Derek Thompson

&

Raymond Keith Williamson
"One in Christ" is a series of six Bible Studies prepared by Derek Thompson. The studies are aimed at showing that church unity is very much the teaching of Scripture. Also included are two articles by Raymond Williamson to assist group leaders in understanding some of the basic issues in ecumenism.
Raymond Keith Williamson's tag cloud