Raymond McAlister
Biography
Born in Arkansas. Attended UALR and Missionary Baptist Seminary in Little Rock. Was pastor of Landmark Baptist Church in Indianapolis for thirty years. Worked with the Macedonian Missionary service of Polk City, Florida, for nine years. Was president of Emmaus Baptist College in Brandon, Florida, for eleven years. Received B.A. and honorary D.D. degrees from Florida Baptist College in Lakeland, Florida. Received M.A. and D. Min. degrees from Heritage Baptist University in Greenwood, Indiana. Has written "A Biblical Study of Tongues," Reflections: A Collection of Short Articles," and two Bible study books that have been translated and used in over a dozen languages. He has taught, lectured, and preached in sixteen states and six foreign countries.
Where to find Raymond McAlister online
Books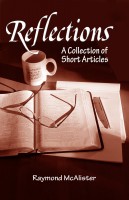 Reflections: A Collection of Short Articles
by

Raymond McAlister
This book is a compilation of thirty of my short articles that appeared in the Baptist Anchor over the years. I thought about calling this book "Potpourri" because the subjects are so disconnected and varied. The only common thread that binds them together is the fact that they are all religious in nature. It is my desire that these articles might instruct, inspire, and challenge.
Raymond McAlister's tag cloud