Raymond Weaver
Biography
Raymond Weaver has been in the newspaper business most of his life delivering newspapers door to door and at one time or the other has done everything from (A) accounting to (Z) making zinc engravings at newspapers he owned. Most of life he worked as editor, reporter and/or photographer for newspaper in several different states. Newspapers included general news newspapers, a society newspaper and a business newspaper from small to large circulation. As such he has met, interviewed and/or photographed everyone from Presidents and presidental candidates (some were elected some were not), the rich and famous to murderers and people who lived in squatter's shacks and lived off of the charity of others and all types inbetween. As such he has a wide variety of personalities from which to draw parts of characters in his fiction writing after several years of factual writing. No single fictional character is patterned after a single real persons but has traits of several people combined into one. He sees and writes about both the world as it might be as well as the way it is.
Books
Comments and Solutions On Current Political and Social Problems
by

Raymond Weaver
Price:
$1.00 USD.
Words: 46,390.
Language: English.
Published: May 23, 2012
. Categories:
Essay
»
Political
This is a book of essays on 28 subjects which can be extremely controversial—from Who Really Pays Taxes to A Politically Correct Love Story. Each is by a single author called The Philosopher and The Phool and it up to each reader to determine which the writer is by agreeing or disagreeing with the presentation. It is published not to change minds, but to make people think, a forgotten ab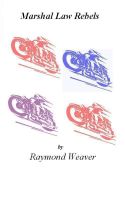 Marshal Law Rebels
by

Raymond Weaver
Price:
$2.99 USD.
Words: 43,500.
Language: English.
Published: March 17, 2012
. Categories:
Fiction
»
Adventure
»
General
When Ham and his three college friends find their supplies have not been replenished at their exploration site they return home to find Ham's parents are missing and a mysterious message. They soon learn marshal law has been declared by a tyrannical governor and they begin to use skill in an effort to overthrow him.
Raymond Weaver's tag cloud