Daniel Johnson
Biography
Hello,
My name is Daniel, I'm 24 years old, born and raised in Raleigh NC. I always liked writing and usually wrote short stories but now that i have daughters who love stories, i decided to write a loving story about overcoming adversity and accepting who you really are. I have different certifications in IT and do that as an occupation but i always liked writing and am always jotting down ides for stories. I really enjoyed writing my first story The Sea and the Sand for my daughters and i thought i might share it with any others with children who love animals.
Books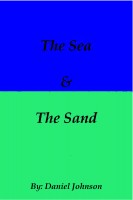 The Sea and The Sand
by

Daniel Johnson
The Sea and The Sand is a book set between children's books and chapter books aimed to help kids start to learn a larger vocabulary. It is a story about being who you are, told through the eyes of two young turtles (one land, one sea) who magically switch places. Throughout their adventure they meet new faces, explore a new world, face their fears, and learn a lesson in the end.
Daniel Johnson's tag cloud