Ahmad-Jabal Shabazz
Biography
Ahmad Jabal Shabazz -aka- "Shep" is a former Philadelphia "Gang Leader" from the Old School, the 1960s and 1970s in the "City of Brotherly Love." He has received a degree in Business Administration; he's a Licensed Electrician; an Academic and Vocational Tutor; a Drug and Alcohol Facilitator; Audio/Video Technician and Videographer; a former AAU Amateur Boxer and USA Boxing Trainer; past President of Community First Step Organization; and past President of the Pennsylvania Lifers Association. He is also a Football, Basketball and Softball Official and an Elder in Temple University's Pan African Community Education Program "PASCEP" Rite-Of-Passage Program. He is on the Board of Directors of Frator Heru Institute. In 2016, he also received his Bachelor's Degree in Interdisciplinary Studies from Villanova University. Ahmad Jabal Shabazz has made all of these accomplishments while serving a Life without Parole sentence for a crime committed in 1974. This book is based on his life experiences.
Where to find Ahmad-Jabal Shabazz online
Books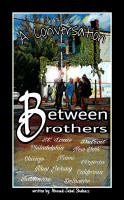 A Conversation Between Brothers
by

Ahmad-Jabal Shabazz
In 1967-68 Ahmad-Jabal Shabazz founded/created; originated and controlled a major territorial part of the "Summerville Gang" in West Oak Lane (Germantown). This territory is known as the "Homicide Squad" and its central location, in the city, is at 21st and Chelten Avenue in Philadelphia, Pennsylvania (Philly Pistolvania).
Ahmad-Jabal Shabazz's tag cloud