LaQuita Cameron
Biography
LaQuita Cameron is a Memphis, TN native, but was born in a little town called Rollingfork, Mississippi. She is a multi-genre writer who loves writing fictional novels. Most of her time is spent writing erotica, urban dramas, thrillers, suspense novels and crime/action series. She devotes her time working full time in a call center, but dedicates the remainder of her time to her three children and husband. She is inspired to write by those authors before me like Judy Bloom, Nikki Turner, K'wan, and even Carl Weber. She plans to write spiritual and children novels in the future. She has a passion for writing and her purpose is to entertain both women and men of all ages. Being an avid reader since the age of 10 she has vowed to one day become a best-selling author. She got accustomed to reading throughout her life. She is currently working on 6 novels while part 1 to her thriller series Let The Games Begin was recently published. She looks forward to gaining a large number of fans and readers over the next 5 years with anticipation of having her own publishing company and beauty reading salon.
Where to find LaQuita Cameron online
Books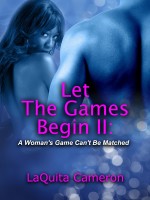 Let The Games Begin II
by

LaQuita Cameron
After the chaos in part 1, Monae is left to find love again with her doctor friend Myles, who brings drama from his two baby mothers into their relationship. Porter wakes up from his coma and tries to rise to the top again in the streets.Troy takes Yvette hostage, leaving Deon and Monae to search for her. Brenda hunts down Troy for secretly murdering her husband, who was his best friend.
LaQuita Cameron's tag cloud