Reginah Thomo Mzimba
Biography
Ni wansati wa malembe ya makume mune nkaye,ni velekiwe exidorobanini xa Bushbuckridge laha ninga pasa tidyondzo ta matric ivi niya dyondzela vuthicara e Elijah Mango College kona kwala xifundzeninkulu xa Mpumalanga. nidyondzisile eSekhukhusa high school kufikela hi lembe ra 1994 loko ni tekiwa kutani hi rhurhela edorobeninkulu ra pitori laha ni nga fika ni nga kumi ntirho wa mina wa vuthicara kutani ni nghena ka Insurance kufikela nipfula bindzu ra mina ra Insurance leri ri tirhaku na sweswi.Ni katekisiwile hi vana vanharhu.
Smashwords Interview
Videos
More about Reginah Thomo
About what inspires me to write, and my writing
Books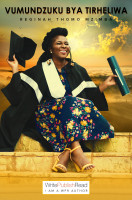 Vumundzuku bya tirheliwa
by

Reginah Thomo Mzimba
Price: Free!
Words: 6,490.
Language: Tsonga.
Published: August 22, 2018
. Categories:
Fiction
»
Inspirational
A swina mhaka leswaku munhu ukurise ku yini,ntsena loko a tiyimisela kucinca xiyimo xa yena. A tirha hi matimba,wa humelela. Loko hi languta vutomi bya vavasati lavanga la xihungwanini lexi ngopfu ngopfu Fanisa ,hi ta swi vona leswaku ripfumelo na ku tiyimisela swa hakela eku heteleleni. Hinga heleni matimba, hinga lahleni thawula,ahiyeni mahlweni hi hanya.
Reginah Thomo Mzimba's tag cloud