Reginald Kevin Keith
Biography
I am a writer, reader, gamer, movie fanatic, dog lover, and self proclaimed audiophile born in Oklahoma and raised in just about everywhere else. My dream is to one day live on an isolated island as a florist and share my love of both written word and flowers. I wouldn't be alone though, I'd have a trusty dog at my side. Everyone needs a dog. I'm a very easy going person and I like to incorporate a little fun in the daily lives of others because who doesn't like to laugh?
Where to find Reginald Kevin Keith online
Books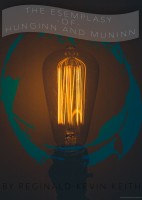 The Esemplasy of Hunginn and Muninn
by

Reginald Kevin Keith
The Esemplasy of Hunginn and Muninn is a collection of short stories. They either involve the well-known but not understood process of birth or even creation. As well as the common insecurities of unknown potential.
Reginald Kevin Keith's tag cloud