Relationships360° Marketing Group
Publisher info
As a child of divorce, recent divorcee, member of multiple blended families, victim of corporate downsizing and abusive relationships, as well as significant other to a young man who while dating her in college lost his battle with cancer at age 23, Tiffany Williams-Jallow has through the years become increasingly motivated to use her personal relationship experiences along with marketing and broadcasting skills to bring a radio show and blog to internet audiences, which span the globe, in hopes of assisting others with help from top relationship professionals in fostering healthy, happy, character-based, long-lasting human bonds. Tiffany's internet radio show, Relationships360°, airs Thursdays at 9:00 p.m. EST on BlogTalkRadio. Former FOX 4 Morning Show producer, Tiffany hosts and executive produces the show, on which she and the relationship experts she interviews explore multiple angles of the issues we face in relationships while offering practical advice to the show's age, gender and ethnically diverse viewers on how to improve their ties with others. Tiffany was also recently the Family & Relationships editor for Overflow Magazine, which launched its first issue in June 2010. Her book, "Relationship Roadmap: The Guide To Getting The Relationship You Want," was released in October 2011 and is receiving rave reviews at BarnesandNoble.com. When not working to help others repair and heal broken and struggling relationships, Tiffany runs her own full-service advertising, marketing and public relations firm, Vizh'en Marketing Communications, LLC, and as a born again Christian, attends services regularly at Christian Cultural Center in Brooklyn, New York. Find out more about Tiffany's radio show, her blog, interactive polls, contests and more at www.relationships360blog.com and www.blogtalkradio.com/relationships360.
Where to find Relationships360° Marketing Group online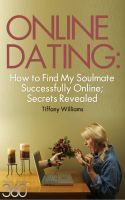 Online Dating: How to Successfully Find My Soulmate Online; Secrets Revealed
by

Tiffany Williams
This book contains advice to help you avoid the pitfalls of dating on the Internet. You'll learn how to: -Improve Your Chances of Finding Love Online -Keep Yourself Safe -Identify Online Dating Red Flags -Move Your Online Relationship Offline -Keep Your Long Distance Relationship Alive and Healthy -And Much More!
Relationships360° Marketing Group's tag cloud