Iain Walsh
Biography
Iain S. Walsh is an immensely unsuccessful musician by trade whose credits are legion, and triumphs are few. (He's also not too certain about this whole "referring to himself in the third-person" thing. It's a bit creepy.) He has scored a hit on FM radio (if you count a "hit" as a song having been played twice on a downstate Illinois college-radio station in 1990), co-managed an intriguingly obscure recording-studio (Park Bench Productions: 1986-1994), spent two summers as the Music Director and Resident Composer for a Northern Illinois Shakespeare Festival (Shakespeare on the Green: 1994-1995), and been in numerous bands, some of which actually got paid, and one that might possibly have opened for The Allman Brothers in 2003 if everything had worked out. (It didn't.) He has also been an actor for thirty-plus years on-stage and in film, and only been booed off the stage once or twice. (It is very difficult to boo someone off the screen.) People keep telling him he should write. Perhaps they're just trying to keep him off the street. Now, with his first novel on Smashwords (okay, his first novel anywhere), you get to decide which is the truth.
Where to find Iain Walsh online
Books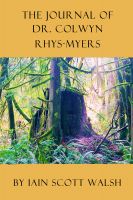 The Journal of Dr. Colwyn Rhys-Myers
by

Iain Walsh
(4.50 from 2 reviews)
This steampunk excursion chronicles the first adventure of a British Expeditionary Force Field-Surgeon after the end of WWI. Dr. Rhys-Myers' mysterious experiences in the fields of France were ones he hoped he could forget. While time alone might have let him, the universe had other plans in store.
Iain Walsh's tag cloud