Rev. John Amoako Atta
Biography
Reverend John Amoako Atta is an apostle by calling. Who was called by the Lord Jesus Christ in January 1990. He was commissioned by the Lord to read the bible thoroughly and to read extensively. He was informed by the Spirit of the Lord expressly that part of his ministry was to write books. Consequent to this primordial command, he applied zest, passion, alacrity, vigor and enthusiasm to the divine command, and this is just the beginning of a journey height into some of the known and unknown topics of profound importance in the Christian world. As we all contribute our individual quota to the building up of the body of Christ worldwide. In April 2011, the Lord commanded him to begin his ministry at Spintex road - Accra, Ghana.
Where to find Rev. John Amoako Atta online
Books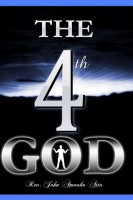 The 4th God
by

Rev. John Amoako Atta
This book is designed by revelation to solve our most deepest heartache and spiritual problems like: Why did Jesus Christ die on the cross? Who is a god? Who is a goddess? The original god on earth? Satan has already confirmed who the god on earth is. What you have and was given to you yet take away. Who is a Christian? Who should control and manage the earth?
Rev. John Amoako Atta's tag cloud